Recommended Global Nursing Webinars & Conferences
Midwifery 2020
About Conference
The International Conference on Midwifery and Womens Health at September 30-October 01, 2020 will be hosting presentations based upon the few highlights as Smart IT counselling in Midwifery practices, Women's Health Digitalization with a revolutionized Hospital Information system, Global Midwifery Advocacy: policies, current issues and its management, Healthcare IT Management for smart workplace practices and much more.
The distinguished tracks are having a disperse information regarding the Midwifery 2020 new innovations and Information Technologies. This year our event will be focusing on the global phenomenon of the possible quality inputs in Midwifery practices, if nurtured with a vintage epitome of organized administrative management of well-balanced digital nutrition , can have the power to remould the old midwifery concept into a revolution of Digital Ambassadors which can eventually restyle the whole outlook of Nursing & Healthcare Management .It is to address Midwifery and Women's Health-related scientific communities to leap into this beautiful revolution of digital Ambassador into every aspect of Midwifery and Women's Health sector and reveal the quality digital technologies to firm up and elevate women's health before, during and after pregnancy. The aim is to explore smart management strategies planning ,implementation and its technical execution in an dynamically analytical manner , so that the midwives can facilitate themselves into a digital platform and can become role model globally with modernized concept of paediatrics IT and digital psychological counselling in hypnobirthing ,thereby giving pregnant women to experience a adventurous journey of birthing. Digital Midwives can play a crucial role in providing IT paediatric counselling & educating the women, how to put up her health and baby's health. Also, the vigorous market statistics will provide a broad approach for the attendees to explore the ideas and issues related to Health care and vide the future of midwives as delegated Digital Ambassadors. Broadly eminence speakers, the most recent frameworks, methodologies, and the most current updates are indicators of Midwifery 2020.
We invite all the Researchers, Scientists, Health care experts,Hospital Administrators, Midwives, Nutritionists, Physicians, Nurse practitioners, Health care analysts, Doctors, Business delegates, Young Researchers, other researchers in the field of Nursing and Healthcare management to explore their research and share their knowledge, help with case studies and other practices of Digital world via Midwives on September 30-October 01, 2020, Barcelona, Spain.The conference proceedings include Keynote speeches, Exhibition, Plenary talks, Workshops, Symposiums, Poster sessions, B2B networking and Panel discussions on the latest research developments in the field of Healthcare Management and Nursing .Midwifery 2020 is the International conferences event organizer and Open Access Journal publisher. Conference Series Ltd currently has more than 700+ Open Access journals with 50,000 Editorial team and 3 million+ readers. Conference Series Ltd organizes 1000+ International scientific events for year across the world, where transfer of knowledge takes place through Oral Presentations, poster presentations, round table meetings, International symposiums, International workshops & world class exhibitions. Conference Series Ltd conferences host several presentations by eminent experts in the relevant fields.
Young Scientist Benefits:
Our conferences provide best Platform for your research through oral presentations.
Share the ideas with both eminent researchers and mentors.
Young Scientist Award reorganization certificate and memento to the winners
Young Scientists will get appropriate and timely information by this Forum.
Platform for collaboration among young researchers for better development
Award should motivate participants to strive to realize their full potential which could in turn be beneficial to the field as whole.
Market Analysis
NURSES WORLDWIDE GLOBAL WOMEN'S HEALTH MARKET
The market research analysts have predicted the global women's health market to grow at a CAGR of more than 3% over the forecast period. With many countries improving the healthcare facilities, the market for women's health will have a positive outlook in the coming years. Many countries have substantially increased their healthcare budgets as a part of their social security measure. For instance, the US government spend 17% of their GDP on the healthcare sector in 2014. With such increases in the budgets by various countries, the women's health market is expected to show growth until the end of 2020.
In the research report, the analysts have estimated factors such as the growing awareness of birth control methods will spur the growth of this market in the forecast period. Contraception and fertility control are supported by the governments of developing nations such as India and China to curb the growing population. However, in western countries, women have stopped using contraceptive pill due to their side effects and are increasingly using IUDs and implants. Therefore, the increasing awareness about alternative growth methods will aid in the growth of this market until the end of 2020.
Nursing and midwifery Manpower analysis of England
In the year to July 2018, the number of nurses and health visitors has scarcely changed – increasing by less than 0.5% to 282,661 FTE. There are now more than 41,000 qualified nursing and midwifery posts reported vacant in the NHS in England – more than 1 in 10.15 However, the overall picture of stagnation in the numbers masks some wide differences between areas of nursing (Figure 1). For example, while the FTE number of nurses and health visitors in children's health grew by 2.2%, and in mental health grew by 0.5%, in community services it fell by 1.2%. This fall was driven by a decrease in the number of health visitors negating a small rise in the number of other nurses working in community services.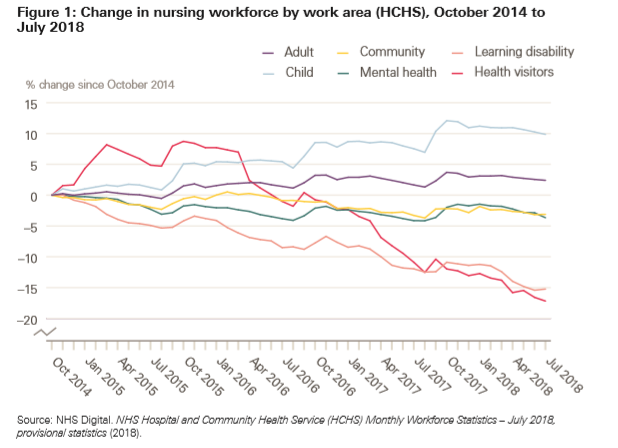 Over the year to July 2018, the number of midwives has increased by 0.9% (201 FTE), a higher rate of growth than in the previous year, with a total of 21,482 FTE midwives in employment at the end of June 2018.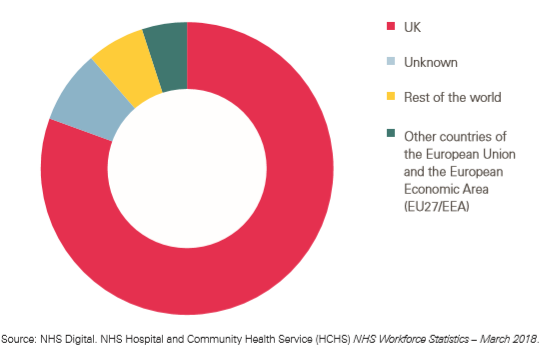 Figure 2: NHS health and community health service workforce by nationality
Overall, about 5.5% (59,197 FTE) of the NHS workforce in England are nationals of other countries of the European Union (EU27) and the European Economic Area (EEA).The largest proportion, 20% (11,984 FTE), are from Ireland. Among nurses and health visitors (6.9%) and doctors (9.6%), EU27 nationals make up a more substantial share.
The most recent data show that, in 2017/18, the number of NHS staff coming from EU27 states has fallen, while the number of staff from EU27 states leaving the NHS has risen (Figure 8). As a result, the net inflow has reduced from just under 3,000 to about 900. However, among nurses and health visitors, the latest figures show a net outflow of 1,687 in 2017/18, compared with a net inflow of 635 in the previous year.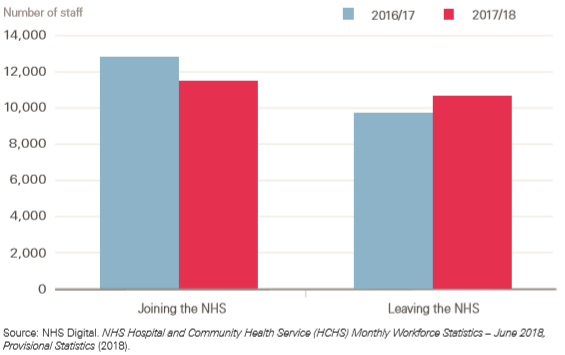 Figure 3: Flows of EU27 staff into and out of the NHS in England, HCHS, 2016/17 and 2017/18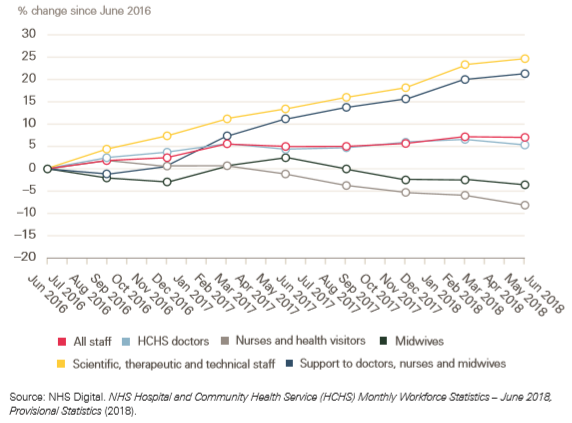 Figure 4: Change in patient care staff (full-time equivalent) in the NHS in England from EU27 states, HCHS, June 2016 to June 2018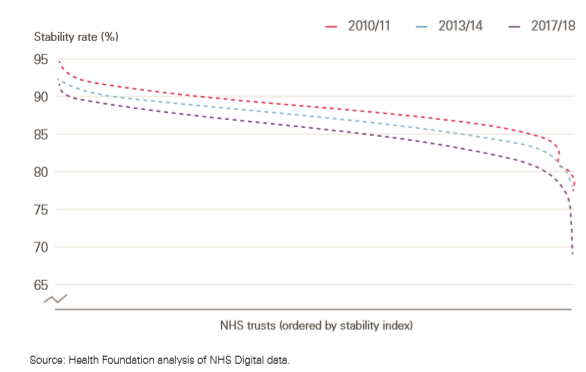 Figure 5 : Stability rates of NHS trusts in England 2010/11 to 2017/18
Midwives & Doulas Industry in the US - Market Research Report :US Midwifery Industry Trend
The Midwives and Doulas industry comprises non physician healthcare providers that aid the delivery of babies and care of the mother. Industry operators offer care to childbearing women during their pregnancy, labor and the postpartum period. They may also help care for the newborn through six weeks of age, including assisting the mother with breastfeeding. Industry revenue has grown over the five years to 2019, rising at an annualized rate of 0.7% to $3.3 billion. In 2019 alone, industry revenue is projected to grow 2.8%. Similarly, industry profit margins have increased slightly over the past five years.
April 2019 Labor away: Expanding healthcare coverage will raise demand for industry services
-Total Revenue in 2019- $3bn
-Number of Businesses - 17,246
-Annual Growth 2014-2019 - 0.7%
-Industry Employment - 22,058
Target Audience:
Midwifery 2020 is intended for:
Midwives
Hospital Administrators
Doulas
Nurses
Doctors
Nurse Practitioner
Physician
Community Health Workers
Midwife Nurse Educator
Nurse Researcher
Scientist and Professor
Registered Nurse (Child and Family Health)
Registered Nurse (Community Health)
Registered Nurse (Developmental Disability)
Mothercraft Nurse
Students
Business Entrepreneurs
Training Institutes
Data Management Companies
Software Developing Companies
Medical Devices Manufacturing Companies
LIST OF MIDWIFERY ASSOCIATION:
Aboriginal Nurses Association of Canada
American Nurse Association
Nursing and Midwifery Council
New Zealand Nurses Organisation
Nursing &Midwifery Council United
Royal College of Midwives
SOCIETIES IN WORLDWIDE:
National Association of Certified Professional Midwives (us)
Association of Women's Health, Obstetric and Neonatal Nurses (awhonn) (us)
American Health Care Association
Australian Nursing Federation
Academy of Neonatal Nursing (us)
European Midwives Association
Danish Association of Midwives
Estonian Midwives Association
Federation of Finnish Midwives
Midwives Association of Georgia
Icelandic Midwives' Association
Norwegian Nurses Association
Swedish Association of Midwives
Austrian Midwives Association
Association of Radical Midwives
Nurses and Midwives Association of Slovenia
Polish Midwives Association
Czech Confederation of Midwives
Société Française De Maïeutique
German Midwives Association
The Society of Midwives of South Africa
Ethiopian Midwives Association
Uganda Private Midwives Association
Association Nationale Des Sages Femmes De Madagascar
To Collaborate Scientific Professionals around the World
Conference Date September 30-01, 2020
For Sponsors & Exhibitors